Day 2 :
Keynote Forum
SENS Research Foundation, USA
Time : 09:00-09:25
Biography:
Aubrey De Grey is a Biomedical Gerontologist based in Mountain View, California, USA, and is the Chief Science Officer of SENS Research Foundation, a California-based 501(c) (3) biomedical research charity that performs and funds laboratory research dedicated to combating the aging process. He received his BA in
Computer Science and Ph.D in Biology from the University of Cambridge. His research interests encompass the characterization of all the types of self-inflicted cellular and molecular damage that constitute mammalian aging and the design of interventions to repair and/or obviate that damage. He is a fellow of both the
Gerontological Society of America and the American Aging Association, and sits on the Editorial and Scientific Advisory Boards of numerous journals and organizations. He is a highly sought-after speaker who gives 40-50 invited talks per year at scientific conferences, universities, companies in areas ranging from pharma to life insurance, and to the public.
Abstract:
Huge numbers of people worldwide die while on waiting lists for organ transplantation, purely because no one sufficiently
immunocompatible dies sufficiently nearby. This tragedy would be substantially reduced if organs could be maintained in a viable state long enough to survive intercontinental travel, and it would be virtually eliminated if organs could be preserved indefinitely. Moreover, in the research arena cryopreservation of biological material has the potential to eliminate huge manpower costs in the maintenance of breeding populations of laboratory animals (such as fruit flies) and to enhance the quality of tissue slices. I will review a number of dramatic recent advances in the cryopreservation field that promise to deliver immense progress in all these areas.
Keynote Forum
Time : 09:25-09:50

Biography:
Yaegaki K had received Doctor of Dental Science, and then completed his Ph.D in Medicine from Kureme University in Medical Biochemistry and Post-doctoral studies from University of British Columbia. He was trained as an Oral Maxillofacial Surgeon at School of Medicine Kurume University. His speciallity was facial injuaries. He is the Director and Head of Oral Health at Nippon Dental University, which is the oldest dental school in Asia, also a Dean of Ph.D Program. He has published more than 100 papers and 20 books.
Abstract:
We treated the liver cirrhosis by transplantation of hepatocyte-like-cell derived stem cells from human exfoliated deciduous
tooth (SHED) into the rata or swine with cirrhosis, NASH or bilious cirrhosis model. SHED at 3 passage was separated by
magnetic sorting with CD117 antibody. For hepatic differentiation, CD117+ SHED were grown in DMEM supplemented with
insulin-transferrin-selenium-x (ITS-x), embryo-tropic-factors(ETF) and hepatocyte-growth-factor (HGF) for 5days: IMDM
supplemented with ITS-x, ETF, HGF, dexamethasone and oncostatin for another 11 days. F344-Nude rats were employed
for this study. Carbon tetrachloride (CCl4) was administered by intra-peritoneal injection for 12 weeks to induce cirrhosis.
Hepatocyte-like-cells (2 x 106 cells/ animal) suspended in Hank`s Balanced Salt Solution were transplanted into the spleen. The
vehicle was injected to the positive control group. Non-cirrhosis-models were used as negative control group. Animals were
sacrificed 4 weeks after the transplantation. Immunocytochemistry observation of the hepatically differentiated cells strongly
demonstrated positive staining for albumin, IGF-1, α-feto-protein, HNF4α and CPS-1. The histopathological analysis, HE and
Masson's trichrome staining, indicated a significant decrease of fibrous tissue in the transplantation group with comparison to
the positive control group. Healthy liver tissues were recovered by the transplantation. Moreover, serological test results revealed
significant differences between the groups. Serum ALT levels of the test group dramatically decreased to one-third compared
to the positive control group. Activities of albumin, bilirubin, BUN, HA levels were also recovered. The xenotransplantation of
hepatocyte-like cells from human tooth transplanted into the liver with severe failure, demonstrated their capacity to preform
positively because of drastic decreasing fibrous tissues. Together, these findings suggested. Hepatocyte-like cells derived from
SHED are a potential source for treating chronic liver injuries such as cirrhosis.
Keynote Forum
Texas Heart Institute, USA
Time : 09:50-10:15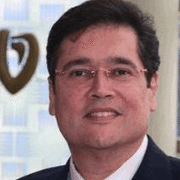 Biography:
Cardiac extracellular matrix (ECM) is a complex architecturally-organized mixture of proteins glycosamino-, andproteoglycans that contains an embedded vascular network. Furthermore, ECM binds growth factors that can drive vasculogenesis. In fact, during cardiac development, cell-matrix interactions give rise to regional cell fate specifications including atrial ventricular, pacemaker, vascular, and neural cells. We hypothesize that cardiac ECM plays a critical role in SC fate, location and function after myocardial injury. Using decellularized ECM from neonatal, adult and old animals, we tested
the hypothesis that ECM composition and architecture provides physical, mechanical and biochemical cues that direct stem
or progenitor cell fate – and show evidence that age, sex and disease state can alter those biologic cues and in turn alter cell
phenotype. Furthermore, by exploring the gene expression profiles of SCs in response to infarcted heart matrix vs collagen
type 1 or non-infarcted matrix, we have begun to define cues that may begin to explain clinical outcomes after cell therapy.
We have also transplanted repopulated and "naked" ECM in vivo either as a cardiac patch after infarction or as a whole heart
to investigate SC recruitment and differentiation in response to acellular or recellularized ECM. Finally, we are convinced that
creating and being able to manipulate the right environment can be more valuable than engineering cells. Our perfusion-based
method to remove cells from myocardium giving rise to decellularized ECM (dECM) with intact micro and macrostructure,
and a patent vascular tree has been proved to be the perfect environment for stem cells.
Abstract:
Dr. Luiz C. Sampaio has devoted his entire career to reducing the burden of cardiovascular disease, first as a cardiovascular surgeon then as a regenerative medicine researcher. In his current positions as associate medical director for the Department of Regenerative Medicine Research and director of the Cullen Cardiovascular Research Laboratories at Texas Heart Institute, he is able to apply his medical and surgical skills to developing new approaches to preventing,
diagnosing, and treating heart disease.